Build a World Where we all Are happy, Safe, Strong & Valued
JOIN ON OUR COMMUNITY In telegram "DEAR SUPPORT SYSTEM"
Dear Support System is a Support System group in Telegram from Dear Senja that focuses on Mental Health in Indonesia. Come Join us, let's be a support system for others. Because your support means a lot. 🙂
"If you feel like we are helpfull & Impactful to your life, Share to your family & friends
It's seems like question above is basic but you know what?
It will means a lot for someone who is tired, sad, miserable, lonely, depressed, & feel like in the darkness.
Every human being has issues or problems in their life. No one in the world has no problems. But you know what? Every problem has a solution or wisdom if we know how to face & deal with it. It's not easy for some people to come up for their mental issues. Some people just zipped their mouth to speak up what they feel. At the end it's overload and  exploded like a nuclear bomb.
Here we are for you!
You could share all your mental issues & problem without having afraid of your identity being revealed. You are safe! You will feel like having diaries as our name "Dear Senja" but having the solutions too.
It's Okay not to be Okay because it's human being! 🙂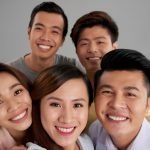 We believe that all problems have solutions. We are committed to caring for all the problems of your life by always listening & understanding.
Dear Senja provide Group chats for all of you who have mental health issues.
In Dear Senja, W e believe we can strengthen each other so you don't have to feel lonely anymore.
We Know that now you are still on learning to solve the problem in your life. By having more information from our content that might be useful for you.
We know that sometimes is hard to tell anyone surround you about what you feel. We are happy to listen to make you comfortable and better by telling us with anonymous account you can tell us all your problem you want without afraid of your actual identity revealed.
We provide professional teams that can consult to all your issues & give suggestions.
Annisa (disguised), 18 Years Old
Dear Senja…, I was like crazy for all everything I had and all the traumatic events from my parents. I was like lost all the hopes that made me absent for the classes in school. But after share in the community in Dear Senja & get consultation it was like having personal diaries but solve the problem too.
Khalid (disguised), 28 Years Old
There is stereotype that man could not be sad or crying. until I got depression and fell into the darkness. But after learning from contents that Dear Senja provide, I believe that was wrong. Man is human & it's okay not to be okay cause all emotions are valid as human. Now I become better and stonger.